THE PROBLEM
Consumers often get overwhelmed with the number of lighting choices on aisle. They end up buying the same broken bulb in their hands and not upgrading to a higher-end product.
OBJECTIVE
Present a solution to help consumer select the right product for their needs while providing added customer service to the Philips consumers. Distill complex concepts into simple conversations to serve a personalized experience to each user.
TEAM
Michael Danz (Art Direction Intern), John Harkins (Copywriter Intern), Thu Do (Innovation Strategist, Art Director, UX)
MY ROLE
Identify innovation, establish innovation + consumer strategy. Provide character building, conversation UX, and art direction guidance.
As we conducted interviews in-store with customers, we found that they are faced with overwhelming choices, both in-store and online.
As a result, people tend to shop with their broken bulb in hand to overcome this confusion which means they rarely upgrade to a better bulb. This also creates high switching barrier.
Messaging platforms such as Facebook Messenger, Whatsapp, Kik & WeChat have come up with a unique tool to help brands connect at a personal level with customers: Chatbot
With Facebook Messenger, we have an opportunity to connect with 900M monthly users*, to provide instant customer service, drive online purchase while building on Philips' innovative brand image.
We'll help distilling complex concepts into simple conversations to serve very different experiences to each customer.
*At current time of research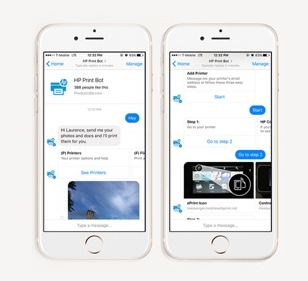 HP is using a Facebook Messenger bot to allow consumers to print their photos, documents, and files to any connected HP printer. It also helps customers set up HP Connected and receive notifications to re-order toner cartridges.
product market fit
For Philips, chatbot amplifies the Information and Innovation space, raising awareness of key product innovation in a socially engaging way.
Meet Phil
your lovable little robot lighting expert.
Key character building and feature development based on consumer needs.
consumer needs / features
Need guidance on the right product to buy
Product search / Product recommendations
Want to get top-level consumer service without the hassle
Natural language conversation at the touch of a finger
Buying in-store or online
Provide directions to store or online buying options
Want lighting to enhance home atmosphere
Provide lighting tips for home illumination and decor purposes
Character building
Phil is:
Rational
Knowledgable
Witty
Pleasant
Disarming
Passionate about getting lighting 'just right'
Helpful
 
Consumer journey
HELPFULNESS at every touch point
Clear consumer mindset, brand objective, and call-to-action at every step of the journey.
 
Guide optimization by measuring the user engagement based on the following metrics:
Totalusers
User retention rate
Popular content
Popular action / button
Popular user inputs
Natural language search terms and sentence structures
Source: chatfuel.com
Conclusion
Technology sometimes takes over the experience without addressing true consumer needs.
In this case, chatbot becomes an enabler, a vehicle to deliver the top-notch consumer service and to drive product conversions for Philips.